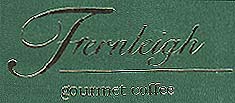 Fernleigh Gourmet Coffee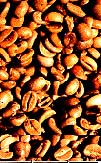 Fernleigh Coffee is a small family owned and operated plantation situated on the rich, volcanic red basalt soil of the coastal ranges in the Byron Bay area of northern New South Wales, Australia's most easterly location.

Production of beans is from carefully selected Arabica varieties which bring out distinctive tastes and flavours with the benefit of a naturally lower caffeine content.

There are no pesticides used and all harvesting, processing and sorting is carried out by hand to ensure optimum quality that makes a gourmet coffee. Production of beans is carried out without harmful sprays, using organically based fertilisers and environmental conservation methods. Drying of beans is by natural sunlight, thus giving a softness to the flavour and further enhancing quality.

Roasting is completed with equipment from one of the world's acknowledged leaders in roasting technology ensuring consistent taste, flavour and colour.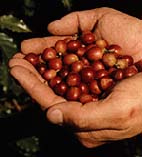 Our three medium roast styles represent the unique flavours derived from that particular variety of tree.

Catuai has a strong, fruity, full bodied taste suitable for breakfast time or with pasta dishes.

Typica has a softer, more aromatic flavour that makes an excellent dessert or after dinner coffee.

Bourbon is a gentle, more subtle coffee which can be drunk late in the evening, or indeed all day long. it has a well balanced cup that is kind to the palate without a bitter aftertaste.


Nursery
Fernleigh Coffee also has a coffee seedling nursery growing all the leading coffee varieties suited to the region in their greenhouse.


Coffee Marketing
Fernleigh Coffee is also a contract coffee buyer for north coast coffee producers and is able to supply the highest quality coffee grown in the region.

For any enquiry regarding our product, please telephone, fax or snail mail.

Fernleigh Coffee
Fernleigh Rd, Brooklet NSW, 2479
Telephone/Facsimile 066 878 439


BACK TO NRG HOME PAGE